about:
Jean Baudin, known for his unique, melodic compositions and versatile technique, is one of the world's most celebrated extended-range bass players. Baudin has recorded and performed across the US, Europe and Japan, including shows alongside renowned bass soloists Stu Hamm and Michael Manring. Baudin's solo bass videos on YouTube have garnered more than 20 million views.
Baudin is acclaimed for pioneering the use of extended-range basses, which are basses with frequencies extending beyond the typical 4- or 5-string range. His solo work utilizes an 11-string bass, with a six octave range including 3 strings lower and 4 strings higher than a normal bass, using a two-handed tapping style that showcases the instrument's full range of low, deep bass notes, as well as high treble notes. Adding effect pedals creates an amazing, full sound of multiple instruments that amazes listeners. Recording his two solo bass albums, "Solace" and "Mechanisms", without overdubs or edits, his live performances bring his original songs to life. An avid gamer, Baudin is also known for incorporating classic video game songs and sound effects into his performances.
In addition to his solo work, Baudin formed the bands Nuclear Rabbit and Element of Surprise and recently traveled to Sweden to finish a new recording with the band Voodoo Gods. He has also scored the music for the documentaries "The Space Invaders: In Search for Lost Time" and "100 Yen".
A passionate educator, Baudin is the author of the technique book "The Mechanics of Tapping," and has led masterclasses in San Francisco, Denver, Paris and Tokyo. Baudin lives in Redwood City, California.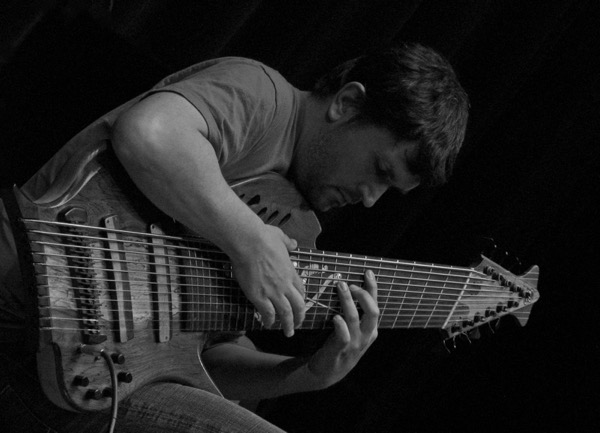 photo: samuel sheats